Click on your state to find out what a NY ticket means to you.
AL AK AZ AR CA CO CT DE FL GA HI ID IL IN IA KS KY LA ME MD MA MI MN MS MO MT NE NV NH NJ NM NY NC ND OH OK OR PA RI SC SD TN TX UT VT VA WA WV WI DC WY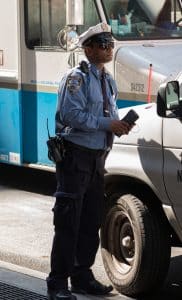 Getting a traffic ticket in another state can be much more complicated than most drivers think. Each state has its own traffic laws and making sense of them can be extremely challenging. Those who are not familiar with New York State's specific traffic laws and its rules regarding traffic tickets can easily find themselves paying huge fines and run the risk of getting their license suspended. Drivers licensed outside New York State who get a NY traffic ticket can use the map below to help them.
Why a New York Traffic Ticket Matters to Out-of-State Drivers
Most states share driving information with each other. This means a New York traffic ticket cannot simply be ignored. Even those that do not openly share information can be notified by the New York State Department of Motor Vehicles if one of their drivers is convicted of and/or fails to pay a NY ticket. How each state handles it will vary. Some states will assess points for NY traffic tickets, while others will not. In addition, many states are willing to suspend the license of any driver that fails to pay a traffic ticket issued in NY. No matter what state one is licensed in or what laws one's home state adheres to, receiving an out-of-state traffic ticket can cause car insurance rates to go up.
Knowing how each state will respond to a New York ticket—and the consequences of the NY ticket itself—is key to helping drivers make the right decision.
How Rosenblum Law Can Help
In order to combat all of the misinformation out there (and there is quite a lot), we have dedicated an entire section of our website to carefully and precisely explaining how certain states deal with out-of-state traffic tickets. We took the time to research the most up-to-date information in order to save you the hassle of doing so. However, since our attorneys are only licensed in NY & NJ please be aware that this information may not be relied upon and if a decision turns on this information it would be advisable to contact a licensed attorney in your home state.
Since many of our clients are New York drivers, we decided to focus our attention on the states and provinces in and around that area. Each page highlights the way a particular place handles out-of-state traffic tickets and provides detailed information regarding how New York views them.
It is important to understand that certain states can take away one's right to drive in them if one is an out-of-state driver. Similarly, depending on what state the driver is licensed in, committing a serious out-of-state violation can lead to the license being suspended entirely.
If you live in another state and receive a traffic ticket while in New York, contact Rosenblum Law. Our experienced traffic ticket attorneys will be able to tell you what you are facing and will do what they can to help you get out of the ticket entirely. In most cases, we can help you so that you do not have to return to New York to face a judge. Email or call 888-883-5529 for a free consultation about your case.
Click on your state to find out what a NY ticket means to you.
AL AK AZ AR CA CO CT DE FL GA HI ID IL IN IA KS KY LA ME MD MA MI MN MS MO MT NE NV NH NJ NM NY NC ND OH OK OR PA RI SC SD TN TX UT VT VA WA WV WI DC WY