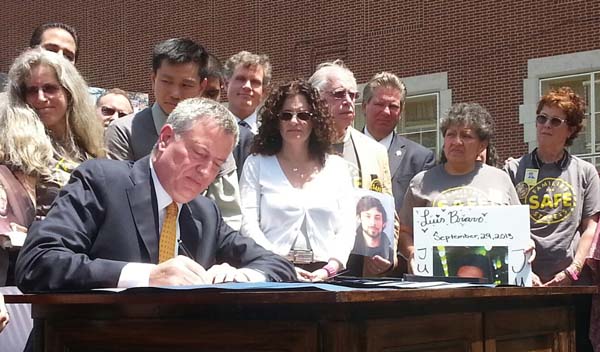 In February of 2014, Mayor de Blasio launched New York City's Vision Zero Action Plan, a 63-step programmatic approach to bring the city's number of traffic fatalities down to zero by 2024. Needless to say, zero is an ambitious goal and there is a long road ahead with 2024 not too far off.  So the pressure is on and with 2014's end approaching it seems appropriate and necessary to assess just how much closer to zero 2014 may have taken us.
Traffic Fatalities
For starters, although NYC's street safety performance in 2014 will be good, it won't be great. In terms of traffic fatalities, it will be more in the vein of returning to levels seen over the last five to six years from the 2013 major spike in fatalities.
If NYC traffic deaths in November (yet to be released) and December resemble those in recent years, the city could close 2014 with 260-265 traffic fatalities, ranking it the third safest year in NYC history.  It is also possible that the city may record its lowest-ever total of pedestrian fatalities, beating the record low of 140 pedestrian fatalities in 2007.
Lower Speed Limit, Increased Enforcement
Speeding is the leading cause of traffic fatalities in NYC and failing to yield to pedestrians is the leading cause of the city's pedestrian fatalities. On November 7, 2015, the Vision Zero initiative took a new turn by reducing the speed limit to 25 mph on most city streets.  According to a six-month report card on Vision Zero by Transportation Alternatives, citywide enforcement of the most dangerous traffic violations—speeding and failure to yield to pedestrians—has skyrocketed in the past year. When compared with the same period in 2013, in the first six months of 2014 summonses for speeding have increased by 32% and summonses for failure to yield have increased by 153%.
According to the Transportation Alternative's report, however, the widespread effort to expand enforcement of the most dangerous violations does not extend to every NYPD precinct. And the inconsistency is stark enough to undermine enforcement efforts because varying levels of enforcement may increase drivers' get away with it mentality.
So, while continuing to increase enforcement of the most dangerous moving violations is an important and significant first step in the Vision Zero initiative, consistent enforcement of these deadly behaviors remains paramount to achieving the 2024 goal.
Traffic Cameras
In addition to increased enforcement through roadside stops, NYC has increased the amount of traffic cameras that monitor drivers on the road.  According to a report on the November 14, 2014 Vision Zero Symposium, speeding has dropped anywhere from 11 to 46% where speed cameras have been installed.  Currently, there are 29 speed cameras in NYC, and the Department of Transportation aims to have 46 more cameras on NYC streets by the end of 2014.
By 2015, the DOT plans to raise that number to 140. According to Transportation Commissioner Polly Trottenberg, the delay in installation of these cameras is due mostly to the time it takes the city to ensure that the cameras are calibrated and operating properly. This extra care is taken in order to avoid incorrectly issued tickets that can undermine support for the camera program.
Can 'Zero' become a reality?
While in its first year Vision Zero has taken real steps toward its ultimate goal, making New York the world's safest big city by 2024 is going to require more than just government policy and programs—it will demand the participation of the State Legislature, lawmakers, and citizens alike to do their part in contributing to safe practices on the roads.
If you've received a traffic ticket anywhere in New York, contact Rosenblum Law at 888-883-5529 for a free consultation. Our attorneys will explain your charges and let you know the best way to protect your driving record.