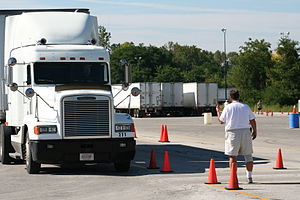 Driving a truck in New York requires a Commercial Driver's License (CDL). If you are a commercial truck driver then being charged with any traffic violation is a serious matter because your CDL can be in jeopardy. Traffic violations for truck drivers carry serious penalties in fines, can affect your driving privileges and in many cases carry criminal consequences.CDL drivers in New York are required to follow additional regulations than your standard license holder in New York.
In New York if you are convicted of two serious traffic violations involving a commercial vehicle within a 3 year period then your CDL can be suspended.
What Is Considered A Serious Traffic Violation In The State Of New York For A Commercial Driver?
There are numerous offenses that can fall under the umbrella of a serious traffic violation for CDL suspension purposes. In New York, speeding at least fifteen miles over the limit, reckless driving (misdemeanor charge), tailgating, accidents that resulted in a fatality in which the CDL driver was guilty of a violation, improper lane change, and operating a commercial vehicle without a CDL.
In addition, any alcohol or drug related conviction, either while driving a commercial or non-commercial vehicle will result in a 1 year loss of CDL driving privileges. This means that even if a traffic violation was committed off-duty while driving your own private vehicle your CDL privileges can be affected.
If a CDL driver is convicted of a second alcohol or drug related offense there CDL privileges can be revoked permanently. In general, Commercial Drivers can face any of the following traffic infractions that may affect their CDL:
Overweight restrictions
Height restriction violations
Safety Regulations
Log book violations
Tailgating
Speeding
Failure to display required stickers
Unsecure Load
Reckless driving
Improper lane change
Improperly transporting hazardous materials
Should I Hire An Attorney To Fight My Traffic Violation Charges?
Commercial drivers spend an extraordinary amount of time on the road. Many times CDL drivers find themselves facing traffic violations for inadvertent traffic offenses, and the consequences for losing a CDL can be devastating. When your license is in danger you will not be able to work or make a living. Remember that in any criminal matter, New York requires that a trucking company be represented by a lawyer.
You should call Rosenblum Law today and consult with one of our experienced attorney's to have the serious charges reduced or dismissed all together. We charge a low flat fee and guarantee a reduction of your points and fines or your money back. The best part is you do not have to come to court because we know you are busy earning a living on the road and making a court appearance can prove difficult.
Don't let traffic violations or speeding tickets ruin your commercial driving privilege. Rosenblum Law will aggressively fight your ticket and help keep you on the road!